FAQ
[About Palnart Poc]
With the concept of "heartwarming design," this accessory brand impresses with its delicate, realistic shapes and gentle, nostalgic coloring. We offer accessories with a nostalgic yet somehow fresh sense of humor that makes every day a little more enjoyable.
[What is the material?]
Motifs: We mainly use pewter alloy. (with some exceptions)
Directly-attached earring posts: The piercing post (needle part) directly attached to the motif is made of surgical stainless steel, which is often used in the medical field. Other parts are made of stainless steel or brass.
Chain: Necklace chains are mainly made of brass. (with some exceptions).
※Please refer to each product page for individual materials.
[Allergies]
Allergies may occur depending on the body constitution and materials. If you experience symptoms such as a rash,
please refrain from wearing the product and consult a specialist.
[Clipped Earring Parts]
About the parts of clipped earrings, the hardness of these parts can be adjusted to your preference.
To make tighter, pinch the connecting part from both sides and apply light pressure with pliers.
If you use pliers after covering the parts with a cloth, the metal fittings will be less likely to be damaged.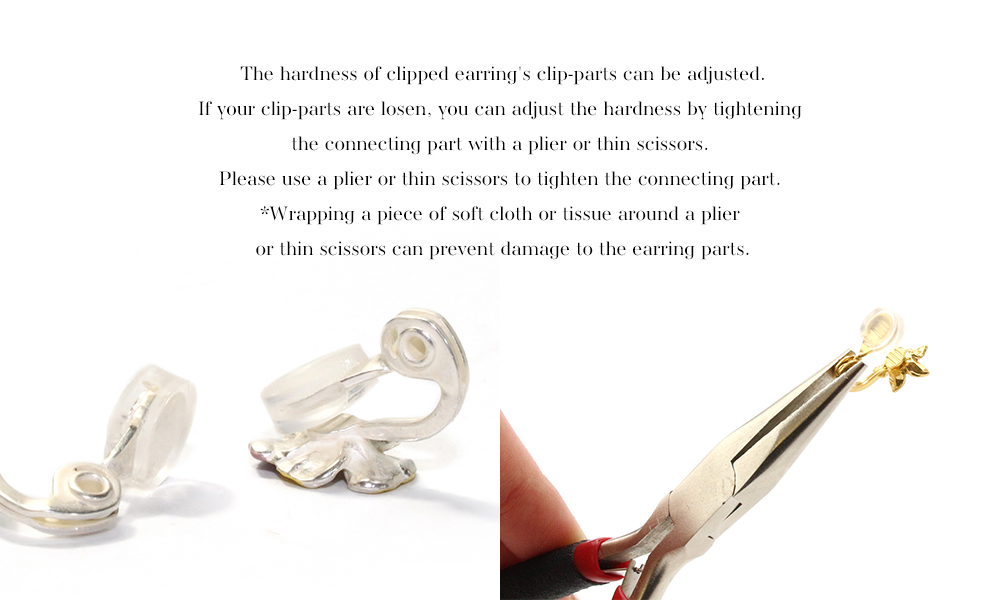 【Regarding Secondary Usage】
We prohibit any sales of our products by imitating their designs or using them as a secondary product.
Unauthorized usage or diversion of product names, images, text, etc. used on our website by anyone other than our business partners is strictly prohibited.
https://palnartpoc.com/shops/dealer.html
★Can I offer gift wrapping?★
Gift wrapping is available with purchasing a gift box.
Please purchase a gift box if you wish to have it wrapped.
⇒
Gift box list
Please specify the product you would like to include in the comment box.
(We may not be able to accept wrapping depending on the quantity or size. Please confirm the size)
★About Online Stock★
The online store's inventory is independently managed by our distribution center.
Please note that the number of items in stock differs from our directed store.
Order Confirmation
Due to the fact that our inventory is shared with other malls, your order is not confirmed when you receive an automatic email after completing your purchase.
Your order is confirmed when you receive an order confirmation e-mail from our comapny.
If the product you ordered is out of stock due to the timing of inventory reflection, your order will be canceled and we will contact you after the first e-mail.
Please understand any inconvenience that may cause.
Please note that we cannot sell character products for oversea customers, since those character products are only licensed to be sold in Japan.
★Recommended Browsers★
・Microsoft Edge(Latest edition)
・Google Chrome(Latest edition)
・Mozilla Firefox(Latest edition)
・Safari(Latest edition)